Handbuch Europäische Sprachkritik Online
Online Handbook of Language Criticism – A European Perspective
Manuel en ligne de la Sprachkritik en Europe
Manuale Online di Sprachkritik Europea

Online priručnik za europsku jezičnu kritiku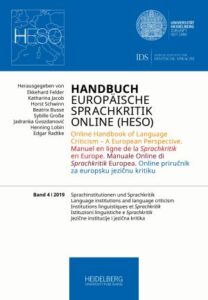 The Online Handbook of Language Criticism – A European Perspective offers a comparative perspective of language criticism in European language cultures (especially of language criticism in German, English, French, Italian and Croatian). Central concepts of language criticism are covered descriptively in the handbook. The goal is to present a conceptual history of European language criticism. On the one hand, the handbook gives specific insights into the respective language cultures. On the other hand, it compares and contrasts them. The multilingual handbook is released periodically in volumes.
The handbook thus contains comparative articles that focus on a single language or on multiple languages. All articles are published in German. The individual language articles looking at language criticism in English, French, Italian and Croatian can also be read in the language the article investigates (the articles are hence available in German/English, German/French, German/Italian or German/Croatian).
The handbook is a publication of the project group European language criticism online (Europäische Sprachkritik Online, ESO). The ESO-Project is based in the European Center for linguistics (Europäisches Zentrum für Sprachwissenschaften, EZS), which is a cooperation between the Faculty for Modern Languages of Heidelberg University and the German Institute (Institut für Deutsche Sprache, IDS) in Mannheim. It is designated for researchers, young academics and students of the various philologies in Germany and abroad. It is also addressed to persons from other disciplines, especially those with a background in social and cultural studies.
The Handbook of language criticism in European perspective is also available in almost every book store and on the websites of most of the online book sellers.
You may access the Online-Handbook here: